Temple overview

◎ Religious school: Koyasan Shingon sect
◎ Founded: Founded in 1880
◎ Founder: chief priest Gakusen Hirata
◎ Current chief priest: The 5rd abbot, chief priest Kenko Hirata
◎ Principal image: Fudo Myoo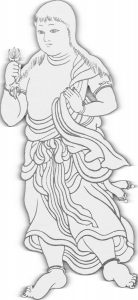 Pilgrim's hymn

History

It was founded on September 28th, 1880(Meiji 13).
The foundation of the monk Hirata Gakusen was established in the 1891(Meiji 24).
In 1935(Showa 10), the 2nd Hosho generation the temple.
In 1984(Showa 59), the 4th head priest, Ryusho, conducted a memorial service for the anniversary of the death of his father, with former head priest Kancho Mori as the guru.
Also, in 1985(Showa 60), with the consideration of Koyasan Nanin, the principal image of Hagiri Fudo Myo was reproduced in full size to solicited.
In 2007(Heisei 19), the Jizo Bodhisattva carved by the Buddhist sculptor Matsumoto Meikei was enshrined.
The Date Fudo Myoo Festival is held on September 28th every year.
Access

About 1 hour and 10 minutes by JR from New Chitose Airport to Date City.

Car (high speed use) Approximately 1 hour and 15 minutes.

5 minutes by car or pass from JR Datemonbetsu Station. 15 minutes on foot.


<Addres>
8 Kashimacho,
Date-shi, Hokkaido 052-0024
Japan

TEL 0142-23-3479