Temple overview

◎ Religious school: Koyasan Shingon sect
◎ Founded: Founded in 1884
◎ Founder: chief priest Ichido Muro
◎ Current chief priest: The 5rd abbot, chief priest Komyo Kisida
◎ Principal image: Fudo Myoo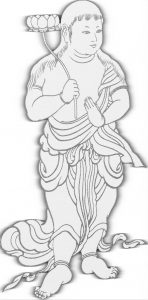 Pilgrim's hymn

History

The founder, Ichido Muro Shonin, came from present Kagawa Prefecture in 1883(Meiji 16), built a hall in Otaru the following year, enshrined the main deity, "Taki no Fudo Myoo" and began to propagate Buddhism.
It became the last temple of Koyasan shojyo-in in 1891(Meiji 21) and was official name of a temple in 1897(Meiji 37).
The principal image is Fudo Myo, which is owned by Hakuhosan Koshoin, the 79th temple of the 88 temples of Shikoku.
The main deity is Fudo Myoo from the collection of Hakubozan Koshoin, the 79th sacred site of the 88 sacred places in Shikoku. Also, since it is enshrined as a secret Buddha, you can see it only for two days of the Grand festival from May 27th to 28th every year.
On both sides of the mountain gate, two Niosons, who are about 7 feet and 2 inches tall, stand as guardians of the temple.
The donor was a wealthy merchant at the time who believed in Fudo Myoo, and the material used was a precious piece of wood carved from a single square block of wood from Hokkaido.
This Fudo Myoo was created by by the Buddhist sculptor Yamashita Shoun, a famous Buddhist priest from Fukuyama, Esashi, who later created portable shrines for Sumiyoshi Shrine and Sapporo Toyohira Shrine.
Access

10 minutes by taxi from Minami-Otaru Station on the Hakodate Main Line.

Chuo Bus Okuzawa Line No. 1 rubber stop opposite side.


<Addres>
3-17-10 Okusawa,
Otaru-shi, Hokkaido 047-0013
Japan

TEL 0134-22-7839